I was wondering if anyone had ever managed to cut sections with this type of Amatron+ box on a spreader.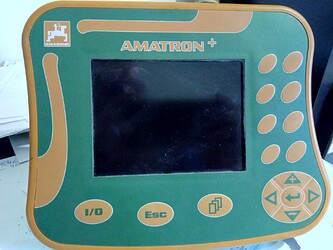 These boxes speak in amaBus which is simply CAN I think.
if we managed to have the communication protocol we could achieve something like here
https://discourse.agopengps.com/t/controlling-bogballe-krm-spreaders/
or a simpler way might be to use an amaclick and bridge the swtichs with good old relays like here Aufbau SC mit Amaclick - Aufbau - cerea-forum.de. however I don't know if the amaclick is comptible with a spreader, I think it is normally used for a sprayer.
I think I'll start trying to decode the CAN, rather than buying an amaclick. anyway if anyone has any info or wants to help me?
---
edit :March 20, 2022
Here is what I realized to order an Amazone ZAM Hydro spreader. You will find more detail and the code on my GitHub.
Since the spreader cannot change position quickly, the code is made so that the changes are not abrupt. Therefore I recommend some adjustment in AOG, an opening advance at least 2,5s and closing 0.2s and an overlap between 50% and 80%. At least that's what worked best for me.
This is recent code, there are still things to improve or optimize, but it is functional! I'll see in the next round, if I can improve something…