Please reply with model number then year/series.
Hello,
I'm looking for a steering mount for:
T5120 autocommand
T6020
TS115
Can anyone help me with this?
Hi
Has anyone any luck finding a steering mount for the new holland tractors I have a
T6.155
Ts115
Many thanks
Here is my version of motor bracket for New Holland T8000 or TG series tractors. There is some borrowed design parts from French collogues and I don't consider this as perfect. Link will provide .STL files for two month. In that period of time i will try to upgrade the locking hinge and some minor problems.
I did mine with PETG, no cooling, very hot nozzle (250oC), do not recommend TPU as it is starting to squeak after heavy usage. Motor is Robotech 165rpm for max torque, but 313 is more comfortable to steer without disengaging. Use small, hardened pin and drill a hole in a metal shaft of motor to achieve long lasting result. Glue is not enough.
link for the motor:
Link for 3d STL files:
Hello, do you guys already tried some STL files for New Holland T6? I found a few STL files on forums but maybe you can send me the best one for New Holland T6 (T6070)?
Thanks in advance!
Can you please share some images here as I cannot view them on the Cerea forum. Many thanks
Any pictures on where best to mount the motor holder on a new holland t6 t7 tsa range
Anyone got anything on new holland tsa t6 or t7… cant find a decent fixing point and too much plastic
My 1st bracket i made off the steering column was crap so took the advice and pulled the steering wheel off and the plastic trim to find some really decent fixing point.
I used 2 clamps which were 55mm to 59mm, 1 for the steering column and 1 for the phidgets motor. Cut some 4mm steel plate and half mooned the 1 end and welded to each clamp.
There is alot of height adjustable room on both the steering column and motor so lining them up was easy.
I've decided to mount the motor the top side to stop you banging you legs on the motor and to keep it out of the way. It hasnt obstructed the instrument cluster at all.
Will need to cut a small slit in the plastic trim at the rear approx 4mm to allow the plate to come through
By using the height adjustable cap on the steering its easy to undo the cap and lift the steering wheel completely away from the gear sets when not using the autosteer for long periods of time and road use. Ive used the relay mod for the autosteer disengage.
Heres some pictures so far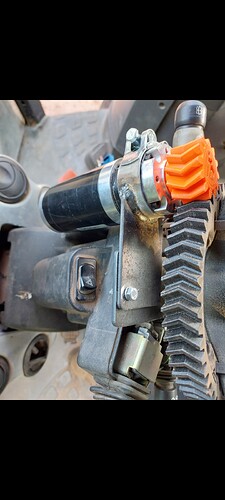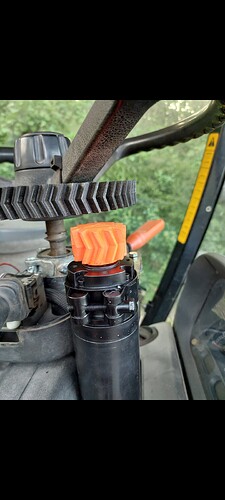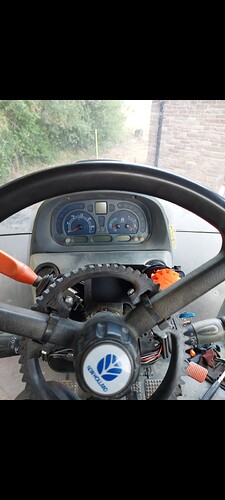 I 3d printed a mount that fits over the existing plastic and it works fine, based upon Potato Farmer's universal mount. The only problem is that I made the mount by using photogrammetry to scan my T6's steering column and so it wasn't entirely accurate. Some judicious work with a rasp and some sandpaper made it all fit, but I probably can't really share the file as it needs so much work after printing.
One of these days I'll try and scan the actual resulting motor mount. But it might give you an idea how I went about it - I wanted to do something non-destructive.