This post shall be a little bit like a blog, where I'll post all information while investigating the Raspberry PI Pico Controller RP2040 as µC for an AgOpenGPS board. Feel free to make suggestions and ask about it here. And it's also a list of (hopefully) useful links.
Likely you'll ask yourself now: Why does this guy want to introduce the next µC? There are already the ones from the Arduino Nano and the Teensy4.1.
Yes, you're right so far, but look at this video how to program that one. And, no, there is no special software needed at all - simply drag and drop the firmware to the board. Quite sure, that people who just want to use AgOpenGPS will like it. They may stop reading here.
Another reason of importance today is the availability: Seems no prob right now (but don't beat me, if this is changing in some weeks!).
Next argument: The chip is about $1.
And nevertheless the technical features. Honestly I don't know where to start…
Just have a look at Raspberry Pi Pico – Raspberry Pi. There is so much to mention…
Last but not least programming can be done in a modern language like MicroPython although C is supported as well for sure.
As it is a fully new approach of programming µCs, this manual is a good starting point [do 'make submodules' and 'make clean' before last 'make' on page 5].
In the next time, I'll expand this post with new information. Right now I'm working with the Arduino RP2040 Connect board and two RTK-1612 boards (photo). Data is already flowing but I didn't manage to connect to AgOpenGPS so far. If this is done, controlling a motor or valves is only a short step.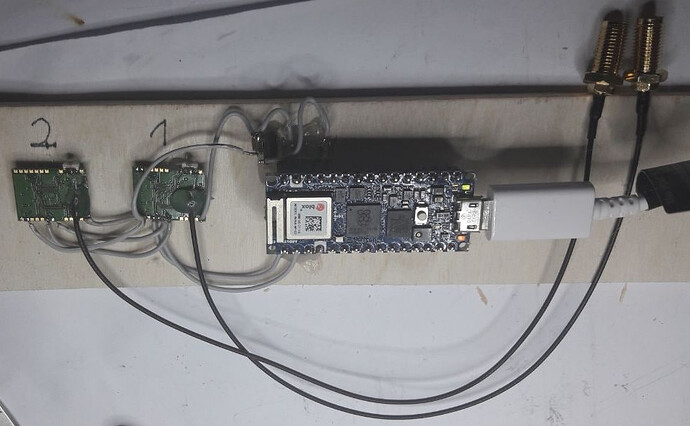 Useful links for programmers: