I am trying to get an Arduino Nano running with Autosteer_UDP_v5_6 but I am not able see any activity in AgIO. For debug purposes I have disconnected everything and only have the Arduino Nano connected with a ENC28J60 Ethernet shield v1.0. Ethernet connected to computer. It is powered form USB.
I have tested that the ethernet shield is ok by running a webserver example.
I have tried tag/5.6.34, tag/5.6.33 and tag/5.6.2. When compiling these files I always get alot of varnings but I assume that is normal?
With Autosteer files from 5.6.2 the I get the following error:
Error compiling for board Arduino Nano.
But if I use IMU_UDP_v5_6 or Machine_UDP_v5_6 from 5.6.2 it works and I can see a connection in AgIO.
With the 5.6.33 and 5.6.34 versions of the files I do not get the error when compiling the Autosteer file but neither Autosteer_UDP_, IMU_UDP_ or Machine_UDP_ of these versions manages to connect to AgIO…
Output from nano with version 5.6.34: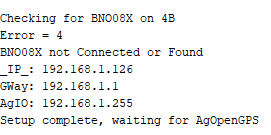 Help please