Finished with the first version of autosteer plus dual F9P GPS with a single Teensy 4.1 micro controller.
Only bench tested at the moment. Still need to test the speed pulse output and the Danfoss valve controller. It is set up to use the Cytron MD13S drive as well.
The google drive link has the .json files for easyEDA and gerber plus a bunch of pictures of the parts with part numbers. I will try to get the part numbers in the schematic, but a lot are missing for now so use the pictures.
The Teensy ino is at (https://github.com/farmerbriantee/AgOpenGPS) under branches, feature/teensy
After download and unzip go to support, arduino modules, ino files, Autosteer_dualheading_teensy_v5_0.
https://drive.google.com/drive/folders/1g7vDPbu2a-ybwreeMpyZG7mt7s1bwIqO?usp=sharing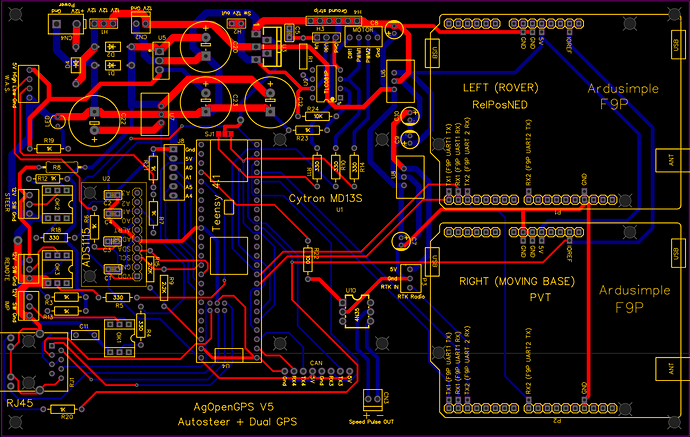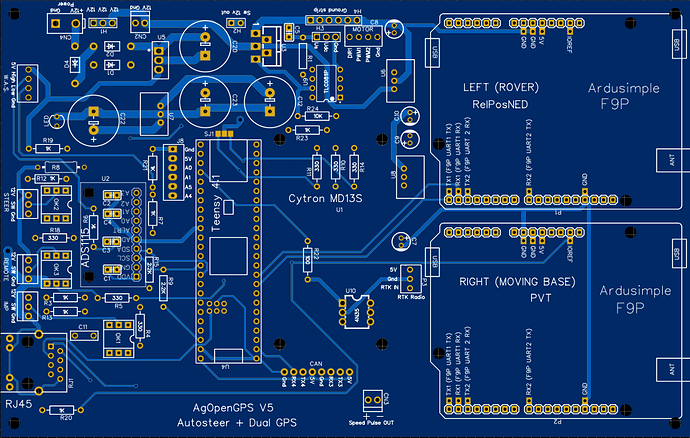 All through hole components, so have to solder yourself. We may offer some prebuilt boards in the spring in the US.