Please reply with model number then year/series.
Hi @MortenP, thanks for sharing. Did you get a moment to share some photos?
Hi @daveo, there are now a few photos in the directory above. It still works pretty well after several hours of operation.
Claas Combine Tucano 320 year 2006


Electric steering wheel with combination of metalic parts and 3dprinting
Video here
file to print and laser cut:
Clutch
Bracket
Steering gear
Clutching Video
Really happy to achieve to this great result
easy to swap mechanism to an other machine, only bracket and steering gear stay
Hi,
What are the gears printed with? PLA, ABS?
and what is the wear like after a season?
I printed the parts in petg with carbon. The wear isn't significant but I changed the parts a bit so now I'm using a toggle clamp as tightener.
I used pla at 50% cubic infill, once it took the rough edges off its hardly worn.
Had to split the steering gear into 3 parts to print it on my size printer and had to modify the steering column mount as on my 07 axion the reverser lever is a much bigger block which has weakened it so put 2 metal plates either side with a extra couple of bolts to take the weight.
Will share them if @MortenP doesn't mind me altering his excellent original design
You could upload the step or f3d files?
I'm working on the gears for my Axos, and the steering column is the same as your Axion, I could use it to check the measurements.
Thx.
I've made them in FreeCad and TinkerCad so I've only been working with stl files.
I found a library of gears for openscad in github ( search openscad, gears) can also be opened in Freecad's openscad workbench.
Vili,
Hi,
I'm wondering if you have finished your version of the CLAAS steer files as I believe I saw this in a recent video in the Beta V4.6 thread? If so could you share as it looks like it would be similar to my new Arion 430 (Australia).
This is my first post here by the way. I have been lurking for a long time and I'm currently using AOG for spraying without auto steer using ardusimple fp9 rtk base + rover. Am keen to give auto steer a go when V4.6 is done. I'd also like to say thanks to every contribution to AOG as it is an awesome project!
Yea, i think so, very similar. Mine is Axos 340.
I search all files, i have too many. And send you soon!!
Regards.
Thanks will be much appreciated
Did you upload somewhere your files for you Axos ? Was it same files as for Axion uploaded by MortenP ? I've Arion and Axion so I'm very interested about what you've made ?
Thanks @MortenP for the STL files for Claas tractor, I'm about to have your version 2 printed is PETG the best material for all 6 parts?
I've seen some others have used a different material for the small drive cog, to make it sacrificial to protect the larger cog.
I will upload pictures when I have it fitted.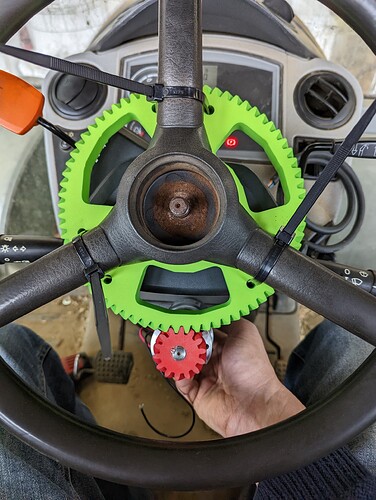 @MortenP Claas STL files unfortunately do not fit a 2009 Claas Arion, despite the steering column looking identical, at some point between 2009 and 2012 they must have changed the design of the cowling or the reverser shuttle as this fouls on the mounting bracket and despite much modification it was obvious it would not fit, it also appears to need the steering wheel fully extended to provide the clearance between the bottom of the motor and the dashboard.
So I've used the Steering wheel cog and motor cog and will mount on a bracket attached to 2 of the M6 bolts on the steering column, pictures to follow.
And on the subject of Claas Arions, this is how I mounted the Land Rover ride height sensor, if its of any help to anyone.