You'll ask why there is also a version 3.0 of the central unit. Well, this is a my suggestion/contribution for a future platform. Right now, it works fine with the Nano, but together with an ESP32 and another one for the SC, it's more or less a unnecessarly complex system with different softwares and architectures. On the other hand, new platforms are upcoming, and there is a really professional one with the Teensy board. Its controller is automotive-suitable in general, although "only" an industrial grade on is mounted. And it's powerful enough to run the whole AOG and to provide a webpage for the HMI. But migrating the software is a real big job, and so a first step will be just to put the Nano and the ESP code on it. This is ongoing and will be published soon.
If you like to split into steering and GNSS units (single, dual and/or with IMU), you may do: Just use two PCBs, one for steering and one for GNSS.
Due to the one µC core, the diagram looks clean and simple: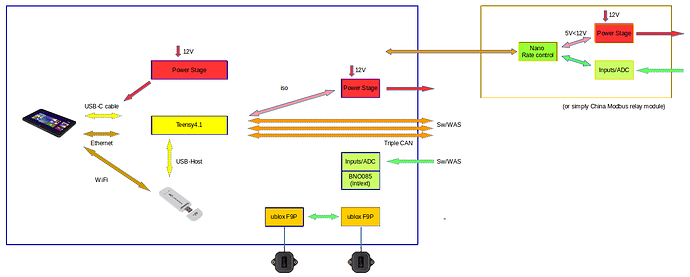 The same section control board as mentioned for the V2.0 board can easily combined to it.
One or two Ardusimple-board can be added as piggyback. Bynav may be used alternatively (has technically no advantage).
I'll once more try to implement charging the tablet within the board, which is quite complex with USB-C 3.0, but possible, so that there's just the box and the tablet in the cabin, connected by a simple USB-C cable.
The data and further information can be found on my Github account. Again, I'm aware, that the doc isn't perfect at all, but I'm working on it as well.
Top view just to give an impression: